Datakeen edits an Enterprise Artificial Intelligence Platform.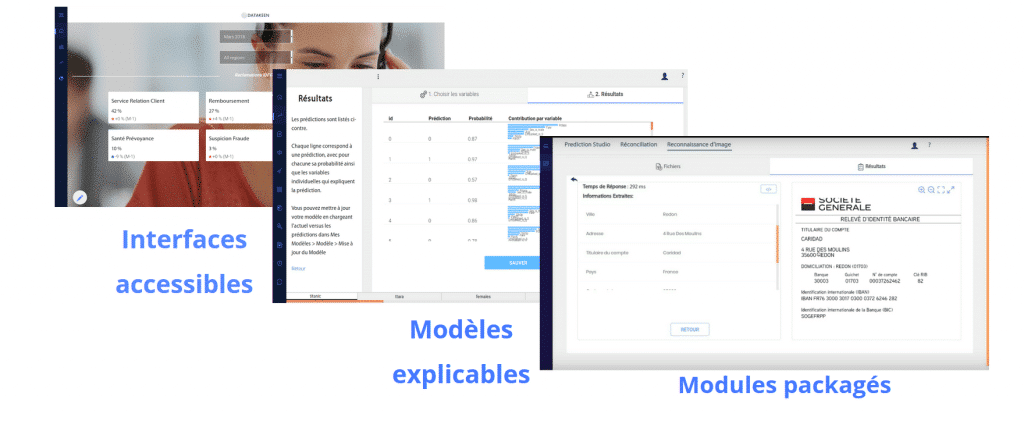 A 100% integrated solution
The platform includes many modules facilitating the use of Artificial Intelligence within your company in a 100% integrated way:
Ready-to-use models requiring only 10 to 100 examples of your data to fit
Control and role management interfaces
A workflow engine allowing you to create approval and validation processes for different departments of your company
APIs allowing frequent calls to predictive models and easy integration into your Information System
Cutting-edge learning models
Our learning models are developed and perfected within our R&D team and we are constantly striving to beat the state of the art. They include sub-components from different key areas of Machine Learning:
Natural language processing
Object and people recognition (anonymized)
Reinforcement learning
An intuitive and adaptive platform
Our platform is extremely adaptive and includes many standard screens allowing us to adapt our interfaces to your needs in record time:
White label platform with your brand and graphic charter
Interfaces specific to your teams or your processes
Integrations with your tools and notifications sent to your teams via Mail or SMS
The right deployment for your needs
We deploy our platform according to your needs in SaaS, On Premises or Hybrid:
SaaS: the platform is deployed on our servers in Europe, we take care of everything!
On Premises: the platform is deployed on your infrastructure: datacenter or private cloud, you administer
Hybrid: our interfaces are hosted on our servers but the data remains on your infrastructure
Explainable AI
You stay in control at all times thanks to our explainable models and predictions:
Confidence degrees are given for each prediction
The choices of the models are explained in dedicated interfaces
Numerous tests are carried out to ensure the performance of the models over time and during version upgrades
Do you want to benefit from the incredible benefits and productivity gains that AI brings to your business?